Ocean routing
Ocean routing is the best solution for planning routes for trans-ocean vessels. It not only saves on fuel consumption, but also improves route planning and increases passage safety.
The principle behind ocean routing
AdrenaShip's ocean routing software calculates and analyses suggested geographic routes, and also provides recommended speeds for the passage. The aim of such routing is to complete a passage within specified time limits, using a minimum amount of fuel and within the safest navigational conditions possible.
How AdrenaShip ocean routing works
AdrenaShip ocean routing automatically avoids the coasts and suggests a range of different courses, together with their respective fuel consumption and ETA.
In order to calculate the best course, AdrenaShip not only considers the weather forecast, but also the vessel's fuel consumption tables as well as wind and wave impact data for the vessel. It also takes into account navigation rules in terms of speed, course and restricted zones for certain types of fuel.
The route is either calculated between two different points (departure and arrival), or over a course composed of different waypoints.
The algorithm used for calculating offshore routing uses the following data:
Wind
Waves
Current
Fuel consumption
Navigation restrictions
Departure and arrival time
Vessel performance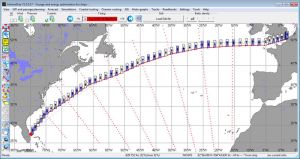 The software will weigh up many different routes at different speeds, taking into consideration the impact of meteorological data and navigation zones. It will examine all permutations, correlate the data and provide a number of recommended routes that provide a safe and economic solution, whilst avoiding dangerous circumstances and discarding routes that lead to high fuel consumption.
Advantages
Fuel savings
The main benefit to be gained from AdrenaShip's ocean routing solution is the fuel saving that can be achieved during the passage. Indeed, the chosen route will take into consideration the resulting push of the currents, waves and the wind. The passage takes natural phenomena into account and uses these to the vessel's advantage.
Autonomy and flexibility
AdrenaShip software is installed directly on the bridge and serves as a decision-making tool for the crew. It allows officers on watch to maintain control over their passage, with the opportunity to update the course at any time depending on the latest forecasts. This autonomy allows the passage to be managed flexibly whilst providing navigators with a tool to control the vessel's fuel consumption and her course.
Safety
Even though the main priority of this routing solution is to save fuel, the software is also an extremely useful tool for improving safety at sea. The interface allows the user to prohibit navigation in zones where there are strong wind and heavy seas, thereby avoiding dangerous circumstances.
When establishing an SEEMP, the implementation of such software brings a direct, immediate and easily quantifiable benefits. In this instance, a limited investment enables direct savings to be measured. Furthermore, once on board, it allows the crew to play a role in fuel consumption management.