Fishing
The fishing industry is at a pivotal moment in its activity, marked by quotas, scarcity of fishery resources and ever-increasing operating costs. As the world's fishing fleet continues to age, the fishing vessels of the future are being developed with the aim of reducing energy consumption on board, whether this be in terms of propelling or running the vessel.
Whilst we await these necessary developments, which are slow to move forward and require significant investment, Adrena is proud to present its innovative software, AdrenaShip.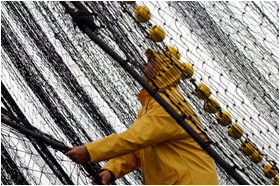 fotolia © David Monjou
AdrenaShip - fuel-saving software at the cutting edge of innovation
AdrenaShip provides different routing functions that take into account the effects of current, wind and waves along the vessel's route. Taking into consideration the vessel's fuel consumption data, AdrenaShip proposes the quickest route and the cheapest route, as well as a combination of the two.
AdrenaShip - giving you control over your ETA
What time will the trawler arrive in port? What time should we leave the fishing zone to make sure that we reach the fish market on time? These are just two of many questions that run through the captain's head on a fishing boat. AdrenaShip software calculates the answers to these questions very precisely. Contrary to conventional navigation software, AdrenaShip works in the effects of current, tide turns, waves and wind to calculate the vessel's progress.
Details of AdrenaShip software features can be found below.