Analysis of a vessel's navigational data and consumption
AdrenaShip provides an interface to gather, present and analyse data from a vessel, whether this be real-time or delayed. This data allows the behaviour and consumption of a vessel to be analysed.
Data collection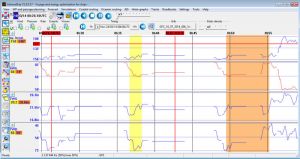 In order to gather data from the vessel, the AdrenaShip maritime routing software is connected to the instruments that measure navigational parameters (GPS, AIS, Wind, etc.), fuel consumption and movement of the vessel. This data is captured via a data acquisition centre, which is connected to the PC on which AdrenaShip is installed.
Diagram?
The data is collected sequentially and gathered in a track. The sequencing and automatic transfer of data from the track can be configured using a ship's log. This provides an easy tool with which ship owners or a fleet centre can gather all vessel data for subsequent analysis.
Type of data gathered
AdrenaShip allows all types of data to be gathered, including navigational data from the GPS, AIS or anemometer etc., or data relating to fuel consumption or movement of the vessel. All of this data is recorded and synchronised in the one track.
Displaying data
AdrenaShip allows the user to view all data logged and the interface proposes a variety of ways in which to view it:
presentation via a data viewer
evolution recorded by means of graphs
vessel track displayed by lines of varying thickness and colour
N.B. :
It is also possible to display the data in real-time
Instruments and graphs can be organised by family of data.
This tool is a simple and easy way of highlighting the cause and effect relationship by comparing data: ratio of dirt on propeller/fuel consumption or RPM/height of waves, etc.
Statistical analysis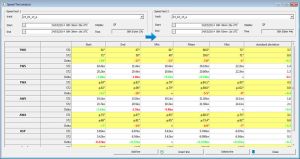 Once all the data has been recorded, AdrenaShip provides a tool to analyse the data and calculate statistics. All of these statistics provide the user with insights about behaviour of the vessel and serves as a tool to help compile fuel consumption tables for the vessel, which are used for calculating routes.
The AdrenaShip data analysis function is an ergonomic tool that allows all available vessel data to be centralised, displayed and statistically analysed.
Knowing how a vessel behaves is a critical pre-requisite for planning a cost control strategy.