Coastal routing, recommended passage speed
Coastal routing is the best solution for vessels whose courses take them through zones with strong currents in which there is little room for manoeuvre in terms of the vessel's route. This solution allows optimised fuel consumption and a tighter control over ETA.
The principle behind coastal routing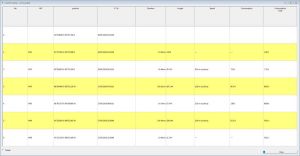 The AdrenaShip routing software takes into account the effects of the current on the vessel's progress and recommends optimum speeds to adopt in line with passage restrictions.
In order to respect the performance requirements imposed upon a vessel, a crew may be tempted to give the engines too much throttle to ensure a punctual arrival at the next port, only to slow down the vessel close to port when the crew realises that they are ahead of schedule. This significantly increases fuel consumption over the passage.
The coastal routing solution allows the crew to keep to their arrival time by adhering to the recommended speeds throughout the course.
How coastal routing works
Each leg between two waypoints is analysed according to the forecasted currents along the course and considering passage-related constraints, such as :
Departure and arrival time of the vessel
Compulsory waypoints
Minimum speed between two waypoints
Maximum speed between two waypoints
Fixed passage speed over ground
Defined length of passage
Current
The recommended speed of the vessel is optimised to achieve minimum fuel consumption during the passage.
The AdrenaShip routing software suggests a course with recommended speeds. This is supported by visual graphics that allow the user to quickly grasp the principles of managing speed.
Advantages of coastal routing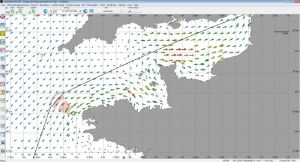 Fuel savings
Planning a passage with AdrenaShip coastal routing allows fuel savings by optimising speed and making the most of currents along the route.
Autonomy
AdrenaShip software is installed directly on the bridge and serves as a decision-making tool for the crew. It allows officers on watch to maintain control, whilst adapting vessel speed to reduce fuel consumption.
The AdrenaShip software's coastal routing function is easy to implement, user-friendly and extremely efficient in zones with a strong current. Installed on the vessel's bridge, it ensures that the crew minimises fuel consumption by controlling speed and ETA.
The AdrenaShip software also features an ocean routing solution, which integrates wind, wave and current data whist scanning different geographic routes. This provides the user with a passage length to fuel consumption ratio. Click here to find out more.